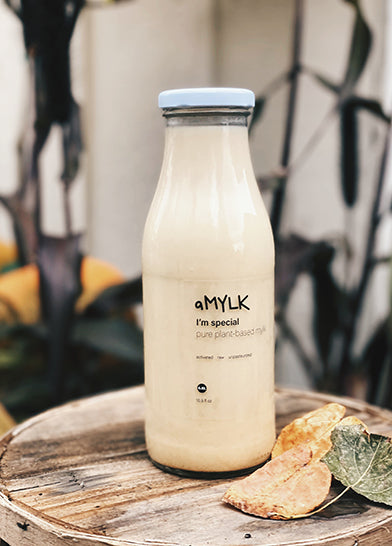 pumpkin spice aMYLK
It's fall in the Pacific Northwest and it's time for all things cozy like Pendleton Blankets and Starbucks Pumpkin Spice Lattes. Though, I bet you didn't know that Starbucks Pumpkin Spice Lattes are not dairy free - even if you order it with almond milk or soy milk. It's true. Even the baristas don't seem to know. Their base is made with loads of sugar, condensed skim milk along with "natural flavors" and "fruit or vegetable juice" for color. It's not as bad as it used to be, but the sugars are off the charts at 52 grams for a 16 oz serving. I'm not a hater on Starbucks, I just want you all to know what you're drinking.  If you are like me and you have food sensitivities or get inflammation from consuming dairy, you might consider an alternative and guess what? I finally have one for you! 
I've created my own pumpkin spice aMYLK (caffeine free) that makes the perfect latte at home when all you want is some comfort that only comes in the form of Pumpkin Spice. 
This almond based mylk is made with pure, organic pumpkin puree, pumpkin pie spice, cardamom, a little maple syrup, vanilla bean and a whole lot of Love!  Plus, it only has 9 grams of sugar for an 8.5 oz serving!
Heat it, steam it, drink it cold. It's Fall all bottled up. I hope you love it! 
organic ingredients:  almonds, water, pumpkin, maple syrup, pumpkin pie spice (cinnamon, ginger, nutmeg powder, allspice clove, cardamom), whole vanilla bean, salt, love
contains nuts: almond
aMYLK is raw and unpasteurized so be sure to use it within a week and keep it refrigerated!
Return your clean, reusable bottles to our Farmers Market locations to receive a discount toward your next purchase.