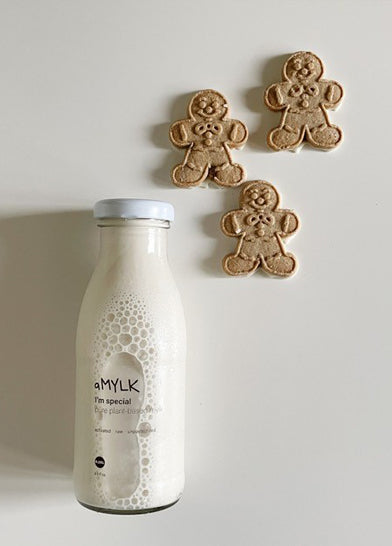 gingersnap holiday aMYLK
My gingersnap aMYLK is a true holiday favorite. When I first launched it, I sold out so fast, I couldn't believe it! Dawn Patrol Coffee, my favorite coffee shop, would buy it by the case last year to make Gingersnap aMYLK lattes (it's incredible with coffee). Try it and let me know what you think! 
Organic ingredients: almonds, water, maple syrup, ginger, vanilla bean, cloves, pink Himalayan salt, love
aMYLK is raw and unpasteurized so be sure to use it within a week and keep it refrigerated!
Return your clean, reusable bottles to our Farmers Market locations to receive a discount toward your next purchase.