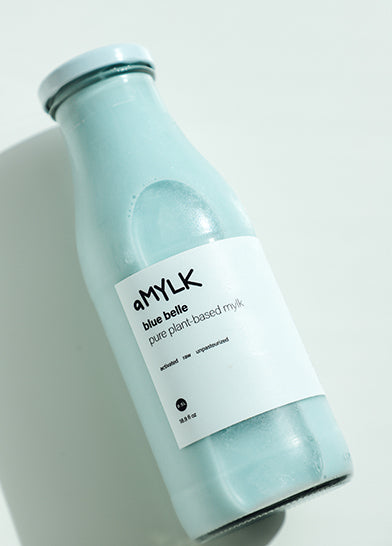 blue belle Super aMYLK
Blue Belle is my most popular Super aMYLK.  It's an almond based mylk that is lightly sweetened with maple syrup and dusted with cinnamon plus an ancient strain of blue-green microalgae derived from Spirulina, a nutrient dense "aqua botanical" harvested here in Oregon from Klamath Lake.
There are many nutritional benefits of consuming algae and our ancestors have been doing it for centuries. For one, there is more protein and chlorophyll in blue-green algae than any other food source.
The algae we use, Arthrospira platensis, is a photoautotrophic, planktonic, filamentous green-blue micro-algae with anti-inflammatory, anti-viral and immune boosting capabilities. * There is also iodine, essential for thyroid health as well as other minerals and trace minerals. YAY! 
I never thought I'd make a blue mylk...but I was wrong. It's just too fun not to.
Organic Ingredients: almonds, water, maple syrup, Arthrospira platensis (extract of spirulina), cinnamon, salt, love
 **Please note that these statements have not been evaluated by the FDA. Contact a medical doctor if you are seeking medical advice and use caution whenever incorporating new foods into your diet. This product is not intended to diagnose, treat, cure, or prevent any disease.
aMYLK is raw and unpasteurized so be sure to use it within a week and keep it refrigerated!
Return your clean, reusable bottles to our Farmers Market locations to receive a discount toward your next purchase.